MV SERIES
18Bit+
4K
Curved
Easy Repair
>

Hasp lock for power parts, tool-free make it easy to do maintenance.

Cabinet component diagram from left to right are back cover ,power supply, receiver card,HUB card,cabinet frame ,led modules.
>

Strong and durable curve side locks

Two rotary side lockes per panel for seamless connection, 1.5 degrees per increment, maximum ±6 degrees for convex and concave screens.
Refresh Rate : 3840Hz
Gray Scale : 14-16bit
>

3mm step at the bottom of the panel to well protect the LEDs.

Smart hanging lock is in high stability, is easy and convenient to do one-person hanging installation and dismantling.

The cabinet has a large armrest for easy installation by the personnel; the rubberized design enhances the feel, saves physical strength and improves installation efficiency.
Average Power Consumption : ≦325w/㎡
Viewing Angle : H:160º V:140º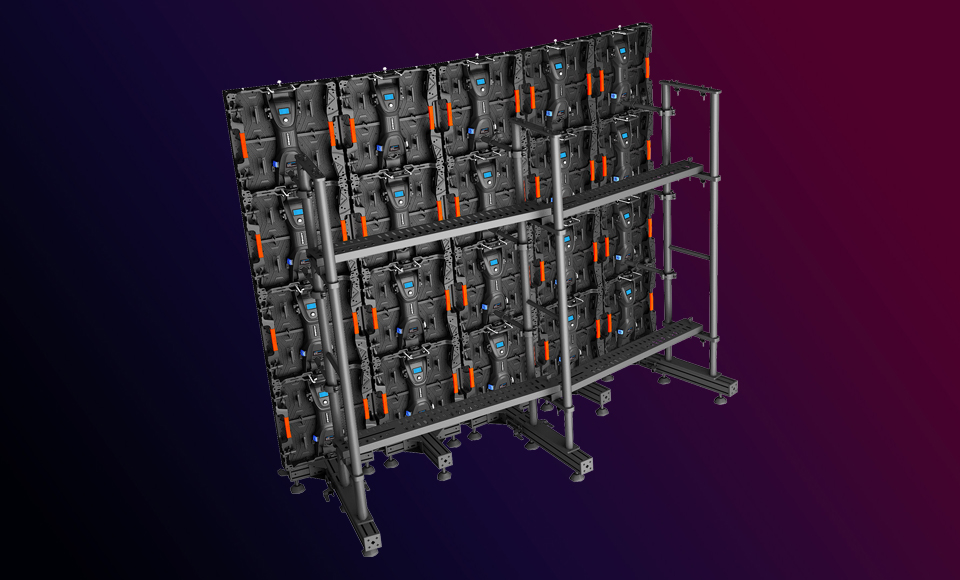 >

Another revolution in process design

Stacking installation ,20pcs height is allowed.
Hanging  installation,20pcs height is acceptable.
No cables between receiving card and power con or signal con, getting much more stable.
IP Rating : IP30
Operating Humidity : 10%-60%RH
| | | | | |
| --- | --- | --- | --- | --- |
| Model No. | MV 2.38(Indoor) | MV 2.6(Indoor) | MV 2.97(Indoor) | MV 3.91(Indoor) |
| Pixel Pitch | 2.38mm | 2.6mm | 2.97mm | 3.91mm |
| LED | SMD1515 | SMD1515 | SMD2020 | SMD2020 |
| Pixel Density | 176400pixel/㎡ | 147456pixel/㎡ | 112896pixel/㎡ | 65536pixel/㎡ |
| Brightness | | 1000-1300nits | | |
| Color Temperature | | 6500-9500k | | |
| Scan | 1/15 | 1/16 | 1/21 | 1/16 |
| Panel Dimension(W*H*D) | | 500mm×500mm×78mm /19.7″×19.7″×3.1″ | | |
| Panel Resolution | 210×210pixel | 192×192pixel | 168×168pixel | 128×128pixel |
| Panel Weight | | 8.30kg/18.30lb | | |
| Cabinet Material | | Die casting aluminum | | |
| Max Power Consumption | | ≦650w/㎡ | | |
| Average Power Consumption | | ≦325w/㎡ | | |
| Viewing Angle | | H:160º  V:140º | | |
| Refresh Rate | | 3840Hz | | |
| Gray Scale | | 14-16bit | | |
| IP Rating | | IP30 | | |
| Operating Humidity | | 10%-60%RH | | |
| Operating Temperature | | -20℃~+45℃ | | |
| Max. Stacking | | 20pcs | | |
| Max. Hanging | | 20pcs | | |
| Curve(Optional) | | -6°/-4.5°/-3°/-1.5°/0°/1.5°/3°/4.5°/6° | | |
| Lifetime | | 50,000hrs | | |
| Storage Temp/Humidity | | -40℃~+60℃;10%-60%RH | | |