Features:
Support 16 zones, group paging button.
System max support 32 remote paging microphones.
Microphone support anti-misoperation plug.
Support line audio input and input/output volume are adjustable.
Paging priority can be set by software.
Support 24 DC power supply.
Remote MIC/Controller has 2 cascade interfaces, 1 in and 1 out.
Optional paging to the main controller or extension controller.
Back Panel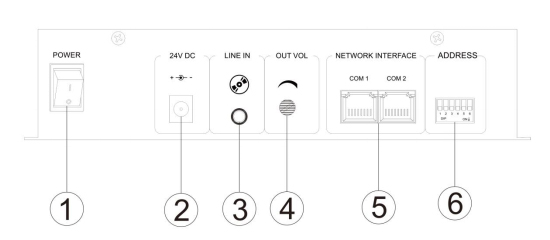 Connectors
1   Power switch
2   DC voltage input
3   Line Sound source input
4   Output volume adjustment
5   CAN Communication network port
6   Dial code setting:(Upward: Use   Down: Close)
Download Datasheet