Built-in 500W amplifier, with 8 zones and A+B independent dual speaker loop output, each zone has independent LED indicator light, output control button and volume adjustment.
Audio processing with 6 general audio inputs,  it can connect with external microphone, CD player, tuner and etc, it can play any audio source in any zone.
Connecting with one backup amplifier, when the built-in amplifier is damaged, it will switch to the backup amplifier automatically.
Automatically monitor every zone speaker loop status in real-time
There are 8 channels that trigger input/output ports, which can trigger the pre-edited voice message to the specified zones or (trigger) the relative external power supply to realize a timely warning for the relative incident.
The extension port can connect the controller and the next extension device.
Specifications:
| | |
| --- | --- |
| Model | VA-6200MS |
| Rated Power Output | 500W |
| Output Voltage | 100V |
| MIC1-2 Input Distortion | <1% (output rating), 1KHz |
| MIC1-2 Input Frequency Response | 80Hz~20KHz |
| MIC1-2 Input Sensitivity | 5mV/6/600Ω |
| MIC1-2 Input SNR | >65dB |
| AUX3-6 Input Distortion | <1% (output rating), 1KHz |
| AUX3-6 Input Frequency Response | 80Hz~20KHz |
| AUX3-6 Input Sensitivity | 350mV/10kΩ |
| AUX3-6 Input SNR | >70dB |
| Spare Amplifier Input | 100V |
| Spare Amplifier Audio Signal Output | 1V |
| Alarm Input | 8 |
| Alarm Output | 8 |
| Zone Input | 8 |
| 24V Relay Output | 8 |
| Short Circuit mode | No voltage short circuit |
| Type of cooling | air-cooled |
| Guard mode | delay/overheat/ short circuit/ overload |
| Output Volume Control | 6 |
| Supply Voltage | ~ 220V-240V, 50/60Hz |
| Maximum Current | 3A |
| Fuse Size | 250V/5A, slow type |
| Spare Voltage | 24V DC, ±20% |
| Maximum Current | 30A |
| Maximum Power Consumption | 600W |
| Dimensions (L x W x D) | 484 x 88 x 353mm |
| Weight | 10.5kg |
Back Panel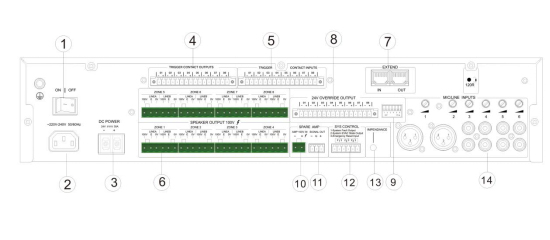 Connectors
①   Power switch
②   AC power outlet
③   DC 24V input interface
④   Fire alarm trigger output node
⑤   Fire alarm trigger input node
⑥   3 wire power amplifier 100V output
⑦   485 Online interface
⑧   DC 24V output
⑨   Unplug the code switch from a computer address
⑩   Backup power amplifier 100V input
⑪   Backup power amplifier signal output
⑫   SYS CONTROL:
1) System fault output, When something goes wrong, This port will be closed
2) Fire alarm output, When the fire alarm is triggered, This port will be closed
3) Emergency reset input, Short circuit interface, and Fire alarm will be reset
⑬   Impedance correction button
⑭ 6-way background music input